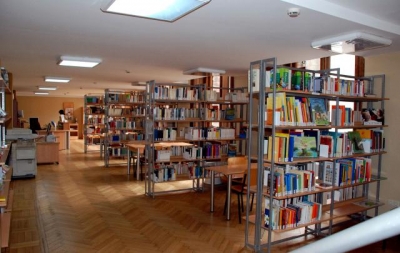 The German Reading Room is a joint project between the National Parliamentary Library of Georgia and the Goethe-Institut and was founded in 2002 with the aim to support German literature and information from and about Germany. Moreover, the German Reading Hall supports the cultural dialogue between Germany and Georgia.
Our collection is focused on: 20th and 21th century German literature, society, politics, economy, philosophy, geography and history of Germany, children's and youth literature and also teaching material for German as a foreign language. Here you can also find German publications on Georgia and the South Caucasus.
Our offers:
German books, CDs with German music and audio books, DVDs with German movies, German newspapers and magazines;

9 Internet-connected computers;

DVD player and audio device, television.
Our online catalogue:
http://www.nplg.gov.ge/ec/ka/ger/search.html
WiFi internet access is available at the German Reading Hall.
Library use:
The German Reading Hall is open to the public and free of charge. You just have to obtain a reader's card of the National Parliamentary Library of Georgia.
Working hours:
Monday-Sunday from 9:30 to 20:00
Address:
The National Parliamentary Library of Georgia, Building 3, Gudiashvili Street 7, 0107 Tbilisi
Tel.: 297 16 23, E-Mail: lesesaal@nplg.gov.ge
The German Reading Hall has its own Facebook page:
http://facebook.com/deutscherlesesaal.tbilissi
Please also see the Goethe-Institut's webpage and Facebook page: http://www.goethe.de/georgien
https://www.facebook.com/goetheinstitut.georgien
Deutscher Lesesaal Tbilissi (Deutsche Bibliothek Wilhelm von Humboldt)
Die Bibliothek ist ein Gemeinschaftsprojekt der Nationalbibliothek des georgischen Parlaments und des Goethe-Instituts und wurde im Jahre 2002 gegründet. Der Lesesaal stellt aktuelle deutschsprachige Literatur und Informationen aus und über Deutschland zur Verfügung.Er ist darüber hinaus ein Ort der Begegnung für Deutsche und Georgier fördert den kulturellen Dialog zwischen den beiden Ländern.
Bestandsschwerpunkte sind: Medien zur Literatur, Gesellschaft, Politik, Wirtschaft, Philosophie, Geografie und Geschichte Deutschlands, Kinder- und Jugendliteratursowie Lehr- und Unterrichtsmaterialien für Deutsch als Fremdsprache. Des Weiteren stehen deutsche Publikationen zu Georgien und dem Südkaukasus zur Verfügung.
Unser Angebot:
deutschsprachige Bücher, Musik- und Audio- CDs (Hörbücher), DVDs, deutschsprachige Zeitungen und Zeitschriften;

9 Multimedia-Computer mit Internetanschluss;

DVD- und Audiogeräte, Fernsehgerät.
Online-Katalog: http://www.nplg.gov.ge/ec/ka/ger/search.html
Der Deutsche Lesesaal Tbilissi verfügt über WiFi.
Benutzung und Ausleihe:
Der Deutsche Lesesaal Tbilissi ist offen für alle, sein Angebot ist kostenlos. Zur Nutzung berechtigt der Leserausweis der Nationalbibliothek.
Genauere Informationen zu den Ausleihbedingungen erhalten Sie hier:
PDF Benutzerordnung zum Download
Öffnungszeiten:
Montag-Sonntag, 9:30 Uhr - 20:00 Uhr
Adresse:
Nationalbibliothek des georgischen Parlaments, Gebäude 3, Gudiaschwili Str. 7, 0107 Tbilissi
Tel.: 297 16 23, E-Mail: lesesaal@nplg.gov.ge
Der Deutsche Lesesaal Tbilissi hat eine Facebook-Seite. : http://facebook.com/deutscherlesesaal.tbilissi
Besuchen Sie auch die Seiten des Goethe-Instituts Georgien im Internet:
http://www.goethe.de/georgien
https://www.facebook.com/goetheinstitut.georgien