Kancheli is famous for his symphonies. In 1977, his Symphony No. 4: "In Memoria di Michelangelo"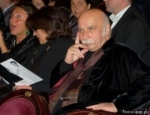 earned international praise. He still productively works with Rustaveli Theatre; Kancheli created much distinguished music for the performances by Robert Sturua (The Caucasian Chalk Circle, Richard III, Hamlet, Snake Woman, The Twelfth Night, etc.
Currently, Kancheli lives in Antwerp, but productively collaborates with Shota Rustaveli State Academic Theatre in Tbilisi. Gia Kancheli was awarded many prizes in Georgia as well as abroad: People's Artist of the Georgian SSR, Shota Rustaveli Prize, Order of Honour, and Nike (Russian Film Academy award) for his film scores.