In 1939, his works were published as a monograph and were highly appraised by Dimitri Mendeleyev, who said that the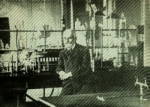 work would strengthen the periodic system of the elements. Melikishvili was awarded with Mikhail Lomonosov Prize by Petersburg Academy of Sciences.
Melikishvili was very interested in the study of the natural resources in Georgia and developing its agricultural strength. He worked fruitfully on the chemical terminology in Georgian. Melikishvili was one of the founders and the first rector of Tbilisi State University. On his initiatives, 4 chemical laboratories and chairs of non-organic, organic and agronomic chemistry were founded in Tbilisi State University.
The Georgian Institute of Physics and Chemistry is named after him.

The Georgian State Academy (1950) and Tbilisi State University founded a Melikishvili Prize in Physics and Chemistry.
Petre Melikishvili is buried in the yard of Tbilisi State University, where his statue was erected. One of Tbilisi's streets bears his name.