Soon afterwards, Nodar Dumbadze became editor-in-chief of the satiric Niangi magazine.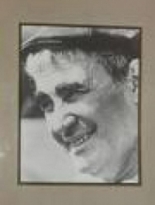 He worked as a secretary of the Georgian Writers' Union and a member of the presidium of the USSR Writers' Union. Nodar Dumbadze was much beloved by the Georgian people. At first, he was acknowledged for his poems for children, but soon became very popular for his novels and short stories. His distinguished sense of humor, humaneness and talent became highly esteemed by both writers and readers.
Many popular films and spectacles were based on his works. "I wanted Freedom and therefore laugh was my choice," he told Guram Asatiani, a Georgian writer and essayist. In spite of his hard life, Dumbadze never stopped being open-minded and kindhearted. His works were translated into many languages. His novels won prizes, among them Shota Rustaveli State Prize (1975, for the novel Tetri Bairagebi ["White Flags"]) and Lenin Prize (1980, for the novel Maradisobis Kanoni ["The Law of Eternity"]).
He died on 14 September, 1984. He is buried in front of the entrance to the Children's Town Mziuri ("Sunny") founded by him.