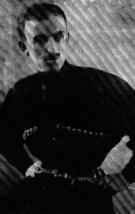 Bagrationi danced in the Georgian operas (Abesalom da Eteri by Z. Paliashvili, Keto da Kote by V. Dolidze etc.). He acted in the ballet performances (Zaali in Mtebis Guli by A. Balancivhadze, Dito in Maltakva by Sh. Taktakishvili).
In 1938-1945 and 1956-1970, Bagrationi was one of the leaders of the Georgian National Song and Dance Ensemble, in 1970-79, a leading choreographer of the Georgian State Philharmonic Hall. He staged famous Georgian dances Sakortsilo ("For Weddings"), Dzveli Tbilisis Preskebi ("Frescos of old Tbilisi"), Alvanuri, etc. Bagrationi worked for preserving of the traditions of Georgian folk dance. He taught at K. Marjanishvili State Theater Studio (1934-39). From 1935 till 1945, he was head of the choreographic circles of Tbilisi State University and Georgian Industrial Institute (today, the Georgian Technical University). Among his students were many famous Georgian dancers.
Bagrationi was one of the leaders of the Georgian jazz. He was a leader of the first Georgian jazz band (1945-50) and Abkhazian Philharmonic Ensemble (1950-53). Later, he was a head of the Georgian Philharmonic Ensemble (1953-56). In the same ensembles, he sang famous Georgian songs as well as folk songs of Caucasian nations. Especially famous is the song Kvavilebis Kvekana ("Flower Land"), a folk song arranged by M. Chirinashvili, text by B. Feradze).