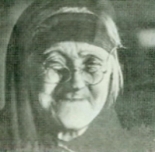 Her first role was that of a magician Fatima in the Georgian pantomime performance (Mzetamze by T. Vakhvakhishvili). In 1930-66, she worked at Kote Marjanishvili State Theater. Takaishvili was an excellent actress with the distinguished talent and versatile creative possibilities. During her creative life, Takaishvili created many different characters. Her acting style was sharp, with the deep sense of humor and spontaneity. Takaishvili created more than 100 main roles for the Georgian theater, most of which were internationally acclaimed. In 1948-85, she was cast in the most popular Georgian feature films. She was awarded many state prizes for her great contribution to the Georgian culture.
Sesilia Takaishvili died in 1983. She is buried in Saburtalo Pantheon.
One of Tbilisi's streets is named after Sesilia Takaishvili.