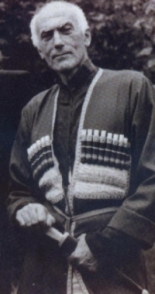 Later, he began to study at Tbilisi State University, Faculty of Law, but the Second World War broke out and he was recruited into the Red Army. He was soon sacked due to his nobility as the 'Enemy of the State'. He became a co-founder and active participant of anti-soviet movement as a member of the underground organization Tetri Giorgi. In April 1944, he was arrested on coup plot charges and sentenced to twenty-five years of imprisonment in Siberia. After fifteen years in prison, three prison escapes, and two death sentences, he took part in the prisoners' uprising in Karaganda and Taimir. After Stalin's death, he was ultimately rehabilitated in 1959 and began his literary career in his late thirties with novels Ratom ar damatsade ("Why Didn't You Let Me Do?" 1960), Gza ("The Way", 1962), Chemi mejghane bidza ("My Shoemaker Uncle", 1963), Kharis aghsareba ("The Confession of a Bull", 1964), Giorgi Burduli (1965), etc.
He became especially popular with his magnum-opus Data Tutashkhia (1973–1975) which is one of the best novels of modern Georgian literature. The novel follows the tragic life of Data Tutashkhia who is forced to lead a life of brigandage against the Russian authorities and oppression. However, the larger theme of the book deals with the issues of fate, personal freedom, morality, and justice. The novel was written during the author's imprisonment, and passed the Soviet censors only through an intervention of the chiefs of the Communist Party of the Georgian SSR. The epic became a big success for the magazine Tsiskari as for the writer himself. The famous film by Giga Lortkipanidze in four series based on the novel was also a big success. After almost 20 years, Amirejibi published his other major works Gora Mborgali ("The Frenzied Hill", 1995) based on his experiences in Soviet prisons, and his latest novel Giorgi brtskinvale ("Giorgi the Brilliant", 2003), a historical novel about the 14th-century Georgian king. Amirejibi hailed the newly independent Georgia, and was elected a member of the Georgian Parliament in 1992. However, the tragic years of civil war and the death of his eldest son Irakli in the war in Abkhazia heavily affected the writer. It is worthy to mention that Chabua Amirejibi has six children from different wives. As he says, it was the result of his free movement between the Gulag and freedom. He is married to Tamar Javakhishvili since almost 40 years.
Amirejibi has received a number of prizes and awards, among them USSR State Prize (1979), Shota Rustaveli Prize (1994), State Prize of Georgia (1998), and Order of Honour (2001) as well as foreign prizes and awards. His works were translated into thirty languages.