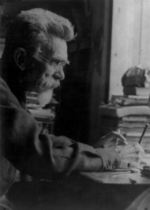 We, Schmerlings, are from Tbilisi; my father was a Georgian painter, with a pencil in one hand and a whip in a second – writes his daughter, a famous Georgian art historian, Rene Schmerling in her memories. Oskar Schmerling was very famous in the whole Transcaucasia as well as in foreign countries. He was studying at Tbilisi Real School, but was not very distinguished as a pupil: I was learning very badly. It is impossible to be interested in math if your both hands are busy with a pencil and a whip. I especially fell in love with my fifth year at school as far as I remained in it for the happy three years.
Kogo and Falanga
Schmerling founded his own magazine Kogo ("Mosquito"), but, because of financial problems, the magazine existed only for two years (1880-81). In the same period, the magazine Falanga ("Harvestman") was published in Tbilisi. Oskar took his works to the editorial board of the magazine. So, his first steps in the field of caricature began. He worked very hard. But without a professional background, the work became difficult.
Saint Petersburg
A young talented painter knew that he needed more training in his field. His strong will and many tears made his parents send him to the Academy of Art in Saint Petersburg. On 1 August, 1884, he was in Saint Petersburg. He began to study as a freelance student of the academy (class of F. Vivalde). Soon, he was acknowledged as a good painter and won a Silver Medal for his painting A Horse. Schmerling became very actively involved in the creative life of the academy students; he became a friend of Georgian (Romanoz Gvelesiani, Gigo Gabashvili) as well as of some Russian painters. His paintings were published in popular Russian magazines (Noah, Zadushevnoe Slovo) and in the German magazine Papifax. He was very inclined in caricature.
Munich
Soon he went to Munich, where he studied for two years in the Art Academy. Schmerling was studying in the class of a famous painter Franz Roubaud. During this period he visited almost every humoristic magazine to begin the work, but there were much more painters in Munich than in Saint Petersburg. Oskar managed to get a job in the Special Journal Radfar Humor.
Afterwards, Oskar returned to Saint Petersburg, where he graduated from the Academy with the Silver Medal.
Back to homeland
1893 Schmerling returned to Tbilisi and moved to Zubalashvili Street with his family. He became a friend of a famous writers, architects, painters etc. His home was a place for meetings and public events.
A Sharp Pencil and a Whip
1901 was a very important year for the future life of painter; a newspaper Tsnobis Purtseli released its illustrated addition (edited by Valerian Gunia). In the second edition, Schmerling's caricatures were published. It was his first success after 9 years of work in his homeland. He was working for the magazines: Eshmakis Matrakhi, Bziki, Eshmakis Makhe etc. He was also painting for other magazines published in Georgia as well as in Armenia and Azerbaijan.
Teaching
1898 Oskar Schmerling opened an art school in Tbilisi. 1902 he founded the Institute of Painting, Sculpture and Architecture at the Society for the Support of Caucasian Fine Artists. He was the first and unchangeable manager and teacher of this institute. Schmerling invited many famous artists as teachers; among them were Iakob Nikoladze and Josef Rotter. 1922, the Academy of Art was founded on the base of his institute. Scmerling's students were the future famous painters: Lado Gudiashvili, Shalva Dzneladze, Ketevan Magalashvili, Alexander Tsimakuridze, Mikheil Chiaureli etc. Schmerling also worked as a teacher in The First Classical Gymnasium.
Exhibitions
Oskar Schmerling's works were displayed in many exhibitions organized in Tbilisi. In 1933, the 40th anniversary of Oskar Schmerling's creative life was celebrated in Tbilisi. During his forty-year work, he was a distinguished caricaturist in the whole Transcaucasia.
The most popular newspapers and magazines, manuals and publications were illustrated by Oskar Schmerling.
He died in 1938. His works are hold in the Georgian Art Museum, State Historical and Ethnographic Museum and in private collections.