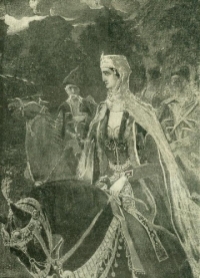 Afterwards, he taught at Tbilisi Academy of Fine Arts (1925-43) and became its professor in 1938. His paintings mostly depicted the old Tbilisi, historical figures and events.
Sidamon-Eristavi was also a distinguished scene-painter; he decorated many famous plays and opera performances (Lope de Vega's Fuente Ovejuna produced by Kote Marjanishvili in 1922, opera performance Daisi (1923, music by Zakaria Paliashvili, etc).
Valerian Sidamon-Eristavi was awarded the title of the Honored Artist of Georgia (1940).