In 1727/8, Guramishvili was snatched from his bride by the marauding tribesmen from Dagestan and spent several months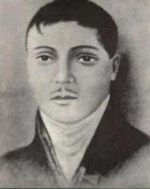 in captivity before he managed to escape to Russia. He followed King Vakhtang VI into exile. It was impossible for him to return to homeland, so he stayed in Russia. He was awarded an estate in Ukraine, where he spent the rest of his life. Later, Guramishvili served in the Russian army, distinguishing himself during the Seven-Year War. He was arrested during the battle and was held in prison for seven years. He fell ill and left the army after returning to Russia. He went to Ukraine, married Tatiana Avalishvili and restored his estate. He gained authority in Ukraine.
In 1787, Guramishvili met the Georgian prince Mirian, sent by his father King Heraclius II of Georgia on a diplomatic mission to Russia. So became the great autobiographical poem Davitiani and its author famous in Georgia. Afterwards, Davitiani was published many times in Georgia; it was also translated into Russian and Ukrainian. His essays were also translated into various languages.
Guramishvili's poetry comprises one great cycle of autobiographical poetry known as the Davitiani, is powerful in its ability to convey lament and sadness over his personal experiences and the destruction of his native land. The poem Davit Guramishvilis lektagan datqoeba recounts his captivity in Daghestan, whereas his most important work is Kartlis Chiri which describes in verses historical events in Georgia in the first half of the 18th century. Among other works, Zubovka is a classic song of dalliance with a peasant girl, and Katsvia Mtskemsi narrates family life of the Georgian highlanders. Guramishvili's poetry emulates Shota Rustaveli's quatrains in using four rhyming 16-syllable lines.
David Guramishvili died on 21 July 1792 when he was 87 years old. He was buried at the Assumption Church in Myrhorod.