He was a co-founder of the Society for Dissemination Literacy among Georgians and Georgian Drama Society. He was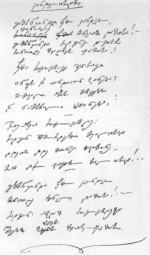 one of the leaders of Georgian national movement.
Tsereteli's reputation as one of the finest Georgian writers is based on the numerous poems and novels he authored throughout his life. Among his major lyrics are Alexandra (1860), Simghera mkis dros, Glekhis aghsareba (1863), Tsitsinatela (1869), Mukhambazi, Aghmart-aghmart, Rom itsode chemi gulis dardebi (1876), Gazapkhuli (1881), Khanjals, Kebata keba (1882), Amirani (1883), Chaghara (1886), Satrfos, Gantiadi (1892), Tkveni chirime (1905), Momakvdavis fikrebi (1911). Some of his poems were turned into songs and Suliko (1895) still remains one of the most popular songs in Georgia. Tsereteli's epic poems include Bagrat didi (1875), Tornike Eristavi (1883), Tamar tsbieri (1885), Kikolis naambobi (1889), Patara kakhi (1890), Natela (1897), and Gamzrdeli (1898). He proved to be an equally talented writer of prose, authoring Bashi-Achuki (1895-1896) and the autobiographical work Chemi tavgadasavali (1894-1908).
Akaki Tsereteli was the most popular poets in Georgia. His 50th anniversary and trip to Racha-Lechkhumi were turned into a national celebration, and the shots of the latter were produced as the very first Georgian documentary film (1908).
Akaki Tsereteli is buried in Mtatsminda Pantheon.