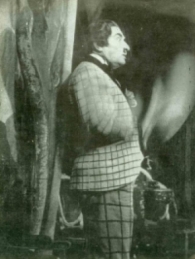 Godziashvili was a talented actor distinguished with his individualism, improvisatory skills, high professionalism, magnetism, musical talent. He presented the best traditions of the new Georgian theater. Godziashvili was playing dramatic as well as comic and grotesque heroes. Many roles presented by him remained brilliant examples in the history of theater. He mostly played heroes in the performances of classical repertoire of Georgian Theater.
Godziashvili was an excellent producer. The performance Old Vaudevilles produced by him, where he himself played main roles, is one of the favorite performances until today for Georgian public. Godziashvili largely influenced the development of the Georgian performing arts. He was acting in many famous films. His main roles were Siko (Keto da Kote, 1948), Avetika (Rats Ginakhavs, Vegar Nakhav [You Cannot See What I Had Seen], 1965) etc. Vaso Godziashvili was awarded with many state prizes.
He died in 1976 and was buried in the Didube Pantheon. One of Tbilisi's streets is named after Vaso Godziashvili.