She was particularly concerned about the status of the peasantry and her first work on this topic, Glekhkatsobis azri sasoplo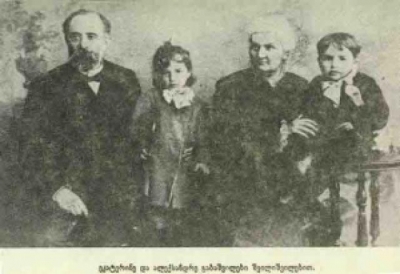 shkolazed, was published in the journal Droeba in 1870, followed by Surati, Ghvinia gadaichekha (1890), Magdanas lurja (1890), Meurmis fikrebi (1891), Gamarjvebuli niko (1896), Soplis megobari (1911), Soplis mastsavlebeli (1918), Soplis mevakhsheni (1925), etc. Her other writings – Romani didkhevashi (1881), Orena da quche (1883), Gurgenaulis babo (1890) dealt with relations between individuals, social customs and morals and the status of women in the Georgian society.

Gabashvili was one of the first feminist writers, who called for greater freedom and rights for women. She was actively involved in the Society for Dissemination of Literacy among Georgians and drafted a specialized curriculum for women. In 1883, she opened a school for girls from impoverished families in her apartment in Tbilisi. In 1890, she co-founded the journal Jejili ("Seedlings"), which began publishing stories for children and played important role in developing a youth literature genre in Georgia. In 1956, a feature film Magdanas lurja, based on Gabashvili's novel, won prizes at the international film festivals at Cannes and Edinburgh.
Ekaterine Gabashvili died on 7 August, 1938, in the village of Akhalkalaki (Kaspi region, Georgia). She is buried in Didube Pantheon, Tbilisi.