His talent was acknowledged while he was still a student. In 1965, Sturua produced Arthur Miller's Trial of Salem, what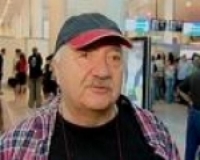 was his first step to success. His mastery was literally on display in his second important work – Samanishvilis dedinatsvali ("Samanishvili's Stepmother") – after a short story by David Kldiashvili. He produced the performance together with Temur Chkheidze. His next work – Khanuma – was also a great success.
In the 1970-ies the concept Robert Sturua's Theatre was coined. He inserted the scene from Brecht's play The Resistible Rise of Arturo Ui. into his performance Kvarkvare (after P. Kakabadze). From this time began the so-called Brecht's period in Sturua's creative life. He cooperated closely with the actor Ramaz Chkhikvadze who played the main roles in the most famous and important plays by Robert Sturua, e.g., Richard III (1979, after W. Shakespeare) and The Caucasian Chalk Circle (1975, after B. Brecht).
In the 1980-ies, Robert Sturua was especially prolific. He produced many popular plays at Rustaveli State Theatre. In 1987, Sturua produced The King Lear (after W. Shakespeare) which illustrated Sturua's inclination for philosophical performance, when the theatrical view of the world and the tragic ending flow together. With the P. Calderon's Play Life Is a Dream, the metaphysical reality takes its place in Sturua's creative world.
In 1994, Sturua produced a play Jacob's Gospel (after Iakob Gogebashvili's book Mother Tongue). In 1996, he produced Lamara (after a play by Grigol Robakidze). His next work So What If Wet Lilac Is Wet?! (after L. Tabukashvili) became very popular among the youth, as well as The Snake Woman (after C. Gozzi) produced together with David Sakvarelidze in 1998.
Sturua intensively cooperated with the foreign theatres. He produced Hamlet at Satirikon Theatre in Moscow. In 2000, he also produced Shylock (after The Merchant of Venice by W. Shakespeare) at Et Cetera Theatre (Moscow). Sturua also collaborated with various West European theatres where he produced the plays by W. Shakespeare, Molière, Chekhov, and Brecht.
Robert Sturua has two permanent co-authors, the painter Giorgi Aleksi-Meskhishvili and the composer Gia Kancheli. He was awarded with many theatre prizes.