Paliashvili studied at Tbilisi Musical School (1891-99) and, later, at Moscow Conservatory (1900-03). In 1903, he returned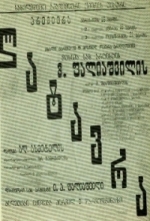 to Georgia and began an active creative, pedagogic and performing life as an organist and conductor. Paliashvili taught at Tbilisi Conservatory (1919) and was its director (1919, 1923, 1928-32).
Paliashvili collected and published two volumes of Georgian folk songs. He was the founder of the classical Georgian musical style based on the artistic interpretation of folk music's originality and its confluence with the classical musical traditions of the world.
Paliashvili's two operas – monumental tragic Absalom and Eteri (1919) and lyrical dramatic Daisi (1923) – are parts of the world's musical heritage and acknowledged by the wide public. Paliashvili's other important works are opera Latavra (1928), Solemn Cantata (1927), as well as many popular romances and songs.
Zakaria Paliashvili's works are an important part of the Georgian national culture and have had an immense influence on the development of the 20th-century Georgian music. Tbilisi State Opera and Ballet Theatre is named after Zakaria Paliashvili (1937), Tbilisi central musical school and Tbilisi musical school 12 also bear his name. Zakaria Paliashvili State Prize for the successful Georgian musicians was established in 1971.
Zakaria Paliashvili died in 1933. The memorial museum was established in his house, 10 Bakradze Street, Tbilisi.