He told us: You may be a real great Artist only when you may sacrifice everything for the Art. He by himself sacrificed everything for his art and didn't leave everything for himself. I will never forget his rehearsal.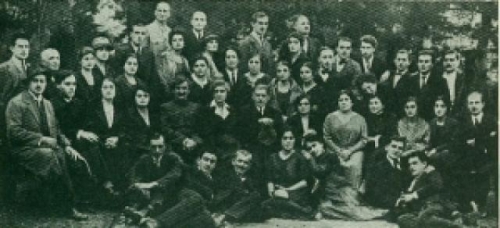 I loved them more than his spectacles. It is real happiness for an actor, when one sees himself in the eyes of his stage director.
We will never forget him, sitting cross-legged, bended looking at you greedily and moving up with his chair towards you. He was always attentive to every move of your soul. If he was content with anything, he would express himself very exited and emotionally his joy, you may be able to see the tears of happiness in his eyes; but when you were lying and spurious, he wouldn't forgive you and would venomously light at you, than he would hate you…
Only with his creative fanaticism is possible to learn to be firm, with the strength of his logic, the sense of responsibility towards his people, country and history.
Veriko Anjafaridze
Kote Marjanishvili was born in Kvareli, in 1872.He began his career as a theater actor in Kutaisi and Tbilisi in 1893-1896 before traveling with Russian theaters throughout the Russian empire in the late 1890s. In 1904-1905, he worked as stage director for the Nezlobin Theater in Riga but was also involved in revolutionary activities and befriended the famous Russian writer Maxim Gorkii. He organized and led Kharkov the Actors Association to protect actor's rights in 1906. In 1907-1908, he acted with Duvan-Tortsov's troupe in Kiev and, in 1908-1909, with Bagrov's company in Odessa. However, he was soon expelled from theater because of on-stage performance of the Marseillaise. In 1909, he returned to Nezlobin Theater and later founded Georgian Drama Studio. In 1910-1913, he performed at the Moscow Arts Theater but then founded the Free Theater in Moscow in 1913. After the closure of the Free Theater, he moved to Rostov-on-Don, where he directed the local theater in 1914-1915.
Marjanishvili was invited to Petrograd where he took charge of the Bouffe Theater in 1916-1917. After the Bolshevik Revolution, he became one of the founders of the Soviet theater and later directed the Free Comedy Theater and Comic Opera Theater. In 1919, he served as a commissar of theaters in Kiev. In 1922, he returned to Georgia, where he directed the Rustaveli Theater. In 1928, he established the Drama Theater in Kutaisi, which later moved to Tbilisi and now carries his name. In his later years, Marjanishvili worked at Korsh Theater (1931-1932), Malyi Theater and Operetta Theater in Moscow (1933). He was awarded the title of People's Artist of the Georgian SSR in 1931.
kote Marjanishvili died in 1933.