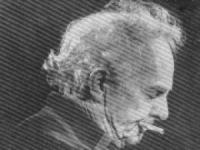 Andria Balanchivadzes' brother was a famous dancer Balanchini.
1927 Andria Balanchivadze and other students were sent to the Leningrad Conservatory. In the class of Jatomirski (Zhatomirski) his worked fruitfully. He wrote many piano pieces, sextets for harp, Cantata, etc.
1931 Balanchivadze graduated from the Leningrad Conservatory and returned to Georgia. 1935 he began lecturing at the Tbilisi Vano Sarajishvili State Conservatory.
His first Ballet Mtebis Guli ("Heart of the Mountains") produced by a ballet dancer and choreographer Vakhtan Chabukiani was a great success among the public and professionals. On 28 June, 1938, the same ballet was performed in Leningrad, later in Kiev, Kharkov, Saratov, Tashkent, Ashkhabad, etc.
1939 A. Balanchivadze finished his first piano concert.
1941-48 he was Director of the Georgian State Symphonic Orchestra. In the same period, he wrote scores for the feature film Giorgi Saakadze, plays Krtsanisis Gmirebi (Heroes of Krtsanisi), General Brusilov, etc.
1967 A. Balancivhadze's IV Piano concert was awarded with the Shota Rustaveli State Prize. 1970 he composed his opera Gold Wedding.
'Real art needs deepness of thought and emotion, truth and poetry of life', says A. Balanchivadze; and his works are the best confirmation of his words.
In the environment grew up a future composer, who was musically very well inclined.
1918 the family returned to the home city of Kutaisi. In the same year A. Balanchivadze began to study at the Kutaisi Musical School founded by his father. Three years later, he enrolled at the Tbilisi State Conservatory (Ippolitov-Ivanov's class). Meanwhile, he created many pieces for piano.