January 4 – His Holiness and Beatitude Ilia II Catholicos-Patriarch of All Georgia, Archbishop of Mtskheta and Tbilisi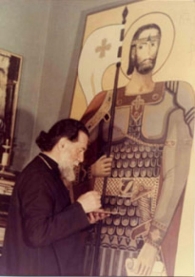 After graduation from the Clerical Seminary and Clerical Academy in Moscow, he returned to Georgia. During his study in the Academy, Catholicos-Patriarch Melkisedek III assigned him as a priest Ilia (Like Elijah) to the Batumi Cathedral Temple. Afterwards, he was promoted to hegumen and, in 1959, to archimandrite.
On August 26, 1963, he was consecrated as the bishop of Shemokmedi. From 1963 to 1972, he was the first rector of Mtskheta Clerical Seminary. In 1967, he became archbishop of Tskhum-Abkhazia and elevated to the rank of Metropolitan. On December 25, 1977, he was inaugurated as a new Catholicos-Patriarch of All Georgia Ilia II by the Synod.
In 1978-1983, Catholicos-Patriarch Ilia II was president of the World Council of Churches (WCC). His Holiness and Beatitude has received the highest church awards from the Patriarchs of the Orthodox Churches of Antioch, Jerusalem, Alexandria, Russia, Greece, Bulgaria, Romania and almost all other orthodox churches. As a productive theologian and church historian, he was conferred an Honorary Doctorate of Theology from the St. Vladimir's Orthodox Theological Seminary in New York (1986) as well as from the Academy of Sciences in Crete (1997) and St. Thikon's Orthodox Theological Seminary in Pennsylvania (1998). He was also elected as a Real Academician of the UN International Academy of Information.
Ilia II is an Honorary Academician of the Georgian Academy of Sciences (2003) and of the International Academy for the Promotion of Scientific Research (2007). In February 2008, His Grace was awarded the David Guramishvili Prize.
During his patriarchate the Georgian church regained its influence and prestige. In 1988, the Mtskheta Clerical Seminary was moved to Tbilisi, and a new clerical academy was founded in the city. On the initiative of Ilia II, a lot of clerical seminaries were established in the Georgian territories. After many centuries, the historic Gelati Clerical Academy was re-established, and Gelati Academy of Sciences was founded.
During the 20 years of Ilia II's patriarchate, the number of Georgian eparchies has grown from 15 to 33, the number of monasteries, up to 53; On his initiative, the biggest cathedral of Georgia, St. Trinity, was built in Tbilisi. Many clerical publications and newspapers were founded and the new Bible in the modern Georgian language was published.
This is very little information on His Holiness and Beatitude, Archbishop of Mtskheta-Tbilisi and Catholicos-Patriarch of All Georgia Ilia II's contribution to Georgia's spiritual development.