Ietim Gurji's father, Ibrahim, moved to Tbilisi and married an Armenian woman, Sara, from Mukhat. Ibrahim's father-in-law baptized him in Armenian style and named him Grigor Agajana. Grigor named his son Ietim, which means "orphan". As he explained, his son would have no relatives and, after the death of his father, he would become a real orphan. Ietim was 15 years old when his father died. He was the only bread-winner for his mother and sister. He became an apprentice of the master of musical instruments and learned to make tambourines, chianurs and other Georgian string instruments. Ietim also worked at home; in his free time, he sold the books for Bookkeepers. He was 18 years old when his mother died in an incident. Ietim moved in with his sister into a dark room, near the Metekhi fortress, where Ietim began to teach singing to young people.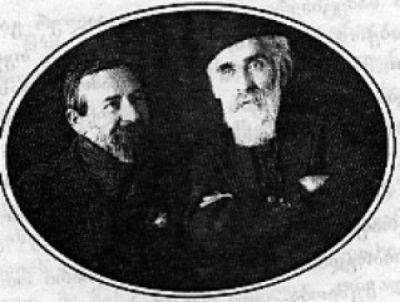 Ietim was actively involved in the revolutionary movement. In 1900s, he was called up to serve in the Tsar's army, but from time to time secretly left the army and lived in bakery. Meanwhile, he learned to bake. He was, however, arrested, punished, and sent back to the army. Ietim participated in the Russian-Japanese war and was wounded in his leg.
Ietim Gurji began to write verses in 1895 when he was 20 years old. He also wrote songs to his own poems in Georgian. His songs became very popular. In 1905, during the revolution, he worked in Baku, in the oil industry, where he took part in worker's meetings. During the period of reaction, Ietim Gurji was banished by the tsarist gendarmerie for five years, but he did not waste his time and learned to paint, cook and make beads. Ietim Gurji returned to the homeland in 1912. On this occasion, he wrote a poem Gamarjoba, Chemo Tbilis Kalako ("Hello, Tbilisi City") which is still much loved by Georgians. The first collection of Ietim Gurji's poem was published in 1909; soon his long poem Gmiri Ana Bajis Leksi ("A Song on Ana Baji, the Heroine") appeared. Ietim Gurji was a talented folk poet. Ietim Gurji wrote poems in Georgian, Armenian and Azeri. His poems deal with the everyday toils of artisans, merchants and peasantry and sing the praises to Tbilisi and its unique atmosphere. He was introduced to the broad Georgian public by a poet-academician Ioseb Grishashvili. Ietim Gurji died in 1940.