Dear Readers,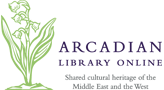 from 24 Octmber to 25 November, The Arcadian Library online is available for our readers.
Rare ancient manuscripts, early printed books, and documents from the 10th to 20th centuries combine to tell the story of the shared heritage of Europe and the Middle East across the course of a millennia. The History of Science and Medicine collection, the first module of the library, showcases the contribution of early Arab and Persian scientists, doctors and thinkers; their translation, reception and influence in Europe and their lasting influence on the development of Western scientific and medical knowledge. It also brings together 19th and 20th century records of science, medicine and natural history from across the Eastern Mediterranean and Middle Eastern regions.
The Arcadian Library online is a new digital resource provided by the famous Bloomsbury Publishing
For more information ask at the Marjory and Oliver Wardrops Anglo-American Reading Room.