Dear Readers,

INFOBASE LEARNING and FILMS MEDIA GROUP resources are available to the National Library users via intranet, from 31 October till 15 November. The databases are: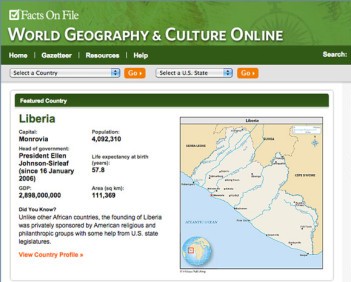 World Geography and Culture Online enhances the study of countries, places, peoples, and geography concepts and skills. This comprehensive reference site makes it easy to study all aspects of a country, with facts at a glance and in-depth coverage through country entries, maps, flags, images, videos, statistics, news articles, a gazetteer, and more. In addition, comprehensive entries about the U.S. states are also available. Ideal for history and geography classrooms and projects as well as for general country and U.S. state research, this online resource features an easy-to-navigate interface, search and browse tools, and tabbed search results.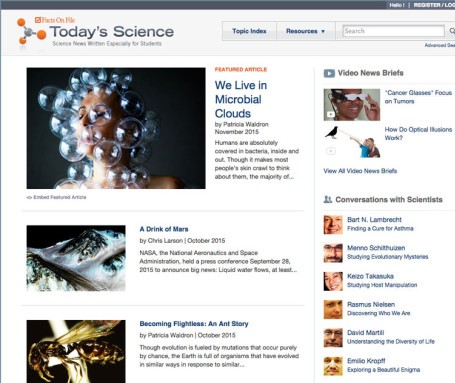 Today's Science bridges the gap between the science taught in class and real-world discoveries-giving in-depth explanations of important advances in biology, chemistry, environmental science, space, physics, and technology. Featured articles offer easy access to related content such as crossword puzzles, cartoons, and questions; additional articles that help place news and discoveries in context; and interviews with scientists that bring the research to life. An extensive backfile dating back to 1992 illustrates how one scientific advance leads to another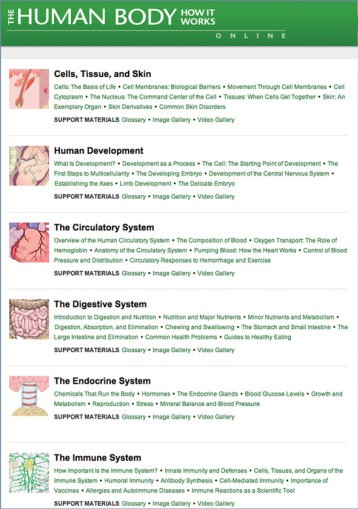 The Human Body: How It Works Online - Through engaging text and original videos and images, The Human Body: How It Works Online investigates the systems and processes that have a role in keeping the human body working, from organ systems to cells. Perfect for those studying human anatomy and the body's processes, this eLearning Module gives readers the information they need to understand how their bodies work. Learning Units in this eLearning Module cover everything from the circulatory and respiratory systems to the senses and human development.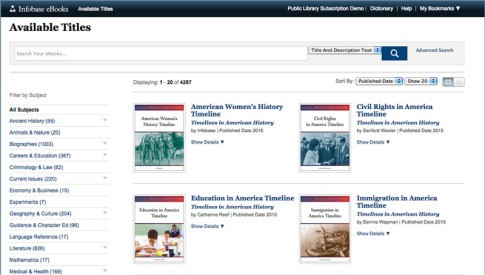 Master Public Library eBook Subscription Collection- With a fresh new look, a wealth of new and updated titles, redesigned search and browse pages, and more, the Public Library eBook Collection gives you convenient access to thousands of acclaimed eBooks from the award-winning Facts On File, Chelsea House, Ferguson's, and Bloom's imprints at a fraction of the cost of purchase. With more than 4,700 titles and new titles added regularly, there is something for every patron-an excellent companion to your fiction and best-seller collections. And exclusive, unlimited, simultaneous access means no more check-in/checkout. It's an easy and ideal way to grow your eBook collection.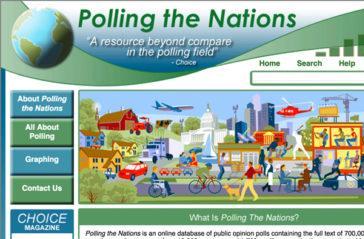 Polling the Nations is a critically acclaimed online database of public opinion polls containing the full text of more than 700,000 questions and responses from more than 18,000 surveys and 1,700 polling organizations, conducted from 1986 through the present in the United States and more than 100 other countries around the world.
Infobase is one of America's leading providers of supplemental educational materials to the school and library markets. Founded in 1940, our company has a long history of publishing award-winning and highly acclaimed resources for K-12 schools, academic institutions, and public libraries.
For more than 15 years, the Films Media Group has been the sole source for Bill Moyers programs for educators throughout North America.
Films Media Group, an Infobase Learning Company, is the premier source of high-quality video on academic, vocational, and life-skills topics. With thousands of outstanding educational videos-many exclusive to us-from the world's most recognized producers, we're proud to serve the needs of schools, colleges, libraries, the medical community, and other institutions with the broadest and deepest range of content available.
For more information and password ask at the Marjory and Oliver Wardrops Anglo-American reading Hall.