Interlibrary Loan (ILL)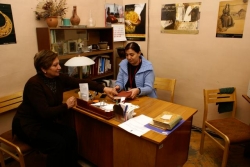 Organizations and institutions which hold libraries, have the right to receive literature and other printed materials for temporary usage from the General Depository of the National Parliamentary Library of Georgia by the means of the Centre for Interlibrary Exchange System and Interlibrary Loans Department.

Right to use the Interlibrary Exchange Readers Cards have the following organizations and institutions:

Central libraries of cities and regions

Specialized scientific, scientific-technical, scientific-medical,

agricultural libraries

The Academy of Sciences, scientific-research and educational institutions, scientific societies, theatres and museums

Scientific-technical information agencies of scientific-technical libraries and large-scale scientific-industrial associations

Parliament of Georgia and the libraries of state organizations and governmental institutions.


National Library lends library documents to libraries of other countries. ILL services are free to libraries in Georgia. International libraries pay the fees via IFLA vouchers.
Address: 5 Gudiashvili (Building No I, 1st floor)
Working hours: every day from 10:00 to 18:00 except Saturdays and Sundays
Tel.: 297 16 49
e-mail: ill@nplg.gov.ge;
nkhvedeliani@nplg.gov.ge;
Interlibrary Loans Department